As you all know by now, digital mangos grow in the sun. We thought it would be nice to explain some of the other fun and interesting facts about this species of numeric fruit by way of a picture.
In today's modern digital world we increasing find the interaction of the virtual (digital) with the real (physical) and it was with this in mind that we commissioned digital artist Kevin Ufarte to create an image which would encapsulate the essential elements of what it means to be a digital mango.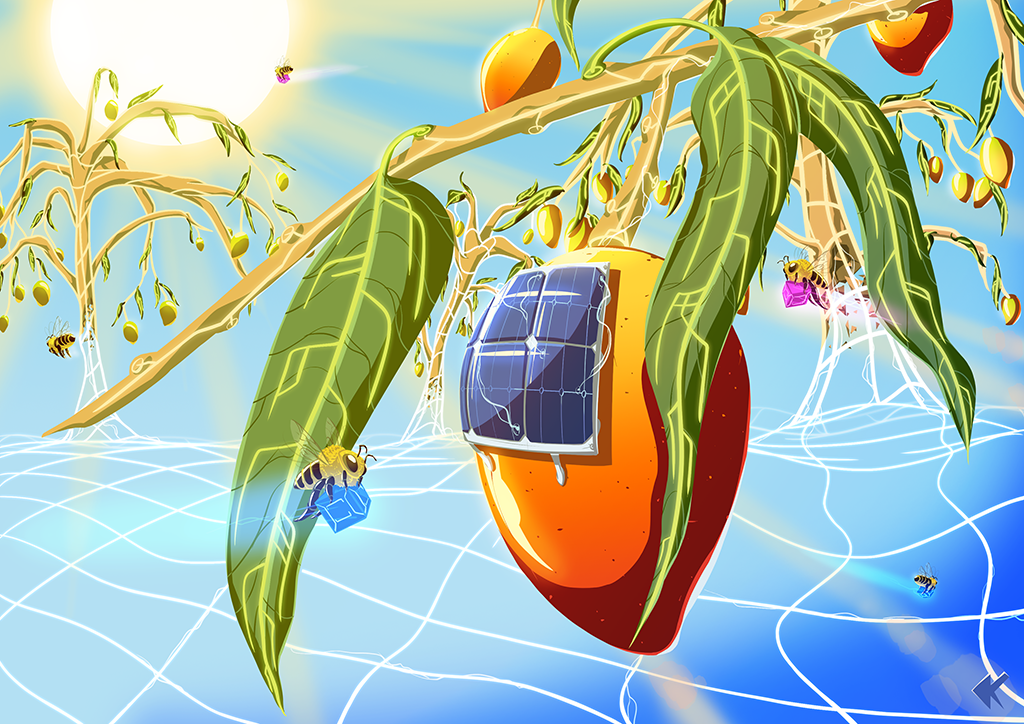 So as you look at the image he created let your mind wander over the concepts that are involved in digital mangoism; Energy produced in harmony with nature, energy via the conversion of light, conversion of energy in to money, transference of digital value via blockchains, linking of nodes in a network, network effect nourishing community action, building a low carbon future, engaging community ownership and participation, permission-less access and inclusivity, decentralisation and power to the people.
To celebrate the fact that this month Digital Mango baked its first block on the Tezos blockchain and to celebrate the revolutionary property of blockchains, the transference of digital value, we have asked Kevin to mint 31 copies of his Digital Mango artwork. If you want to become an owner of the piece you can buy it here or alternatively, we will be buying several lots ourselves for posterity and giving away one copy to the first 5 people to stake their Tezos with our digital baker *.
* These prize NFTs will be distributed on the basis that when you stake your Tezos you also subscribe to our newsletter.
To know more about Digital Mango or the staking/baking process, to invest in one of our projects or simply to join our team: Get in touch today!